9x female left the city to go back to her hometown to do her favorite things, earn tens of millions of dollars every
---
Because she was tired of living in the city, the 9x female decided to quit her job and return to her hometown to do the things she loves. After 2 years, she and her husband gradually settled down, accumulated enough money to buy land and build a house near the school.
Events: Economy Overview
"Hanoi at that time to me are painful memories when my small family of 4 people was struggling, always had to take care of their children's education. Not to mention, once, because he was busy working, his son was burned in the motel room and had to be treated for 2 years, operated many times in hospitals from the South to the North. By 2019, I was too tired with the work to make a living in the city, I decided to discuss with my husband to return to my hometown first, and my husband would finish the unfinished business and then come back," said Phan Mo (1991, living in Tho city) Xuan, Thanh Hoa) confided.
Before that, she graduated from the Interior Design Department of Hanoi University of Industrial Fine Arts. Fresh out of school, she worked for a furniture company, but when she gave birth to a baby, she lost her job because the company did not have a maternity regime. After that, she still tried to stay in Hanoi to sell online but did not like it, only selling to earn income. Therefore, from time to time, she still takes time to satisfy her passion for drawing.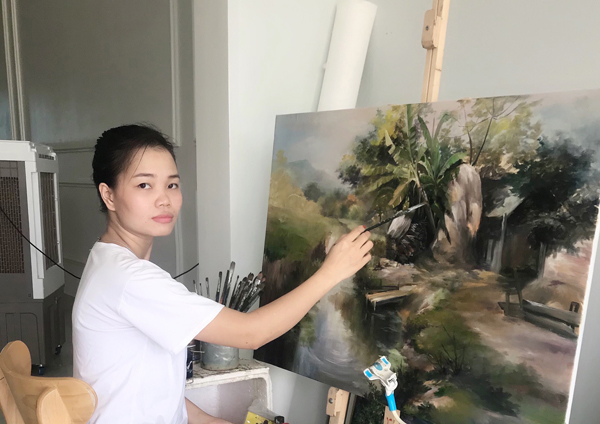 Phan Mo decided to leave the city to return to her hometown to pursue her passion for drawing.
"The sales job also helps me to make ends meet, but it's really stressful. At the end of 2019, when I let my children visit their grandparents in the countryside, I lay all night thinking about going back to my hometown to relax my mind, reduce fatigue and let my children be close to nature," she shared.
After that night, she packed her things and returned first with her two children. And her husband is in the middle of work, so he will come back later. When she returned, the families of both sides protested because she was worried about her return to her hometown, unemployed, having no money to pay for her life, and not investing in her children's education. But she doesn't care, she wants to prove by her actions that she still lives in her hometown, has money and has a decent education for her children.
"Back in my hometown, I was like a "fish released into the pond", I was free to struggle with the work of painting murals. At that time rattan ceiling murals were very popular, so I worked very hard, no matter how far away, no matter how far away, someone called me to go to work. Although it is hard, but having income and above all beautifying the homeland, people praise and love me, I feel very happy", she shared.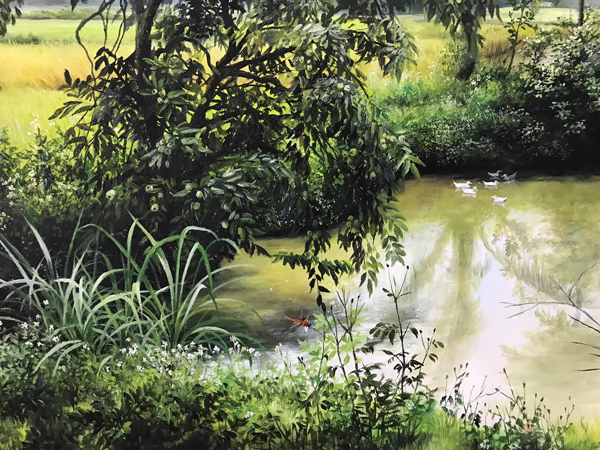 Thanks to painting, she now earns tens of millions of dong every month.
After working for a while, she realized that mural paintings were of little value, so she stopped accepting paintings. The other part, the children at home have always been taken care of by someone, so she decided to stay at home to take care of her children and draw pictures at home.
"I follow the trend of realism in painting, both to challenge and also to develop. Because I think the most honest things will touch the hearts of ordinary people, so I included the countryside scene in the picture", she shared.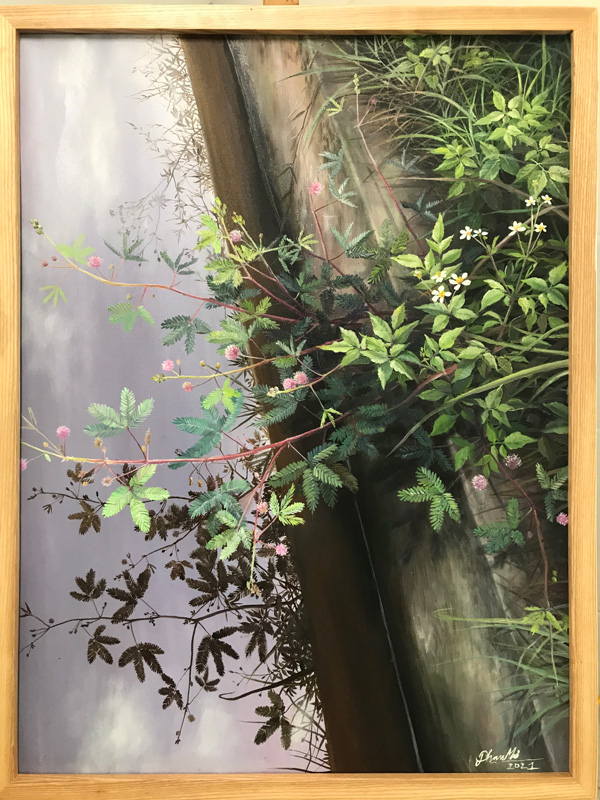 She follows the style of realistic depiction.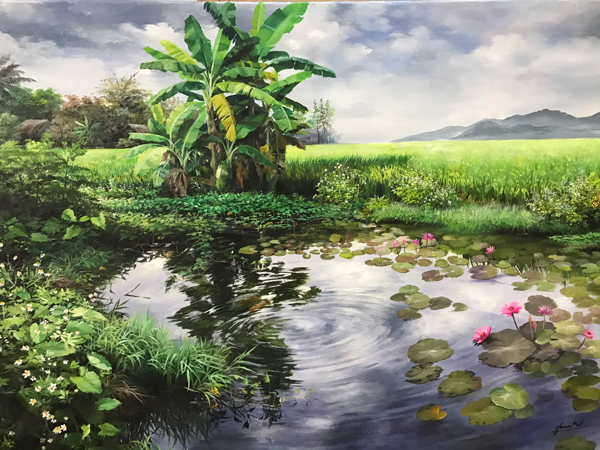 Each painting she sells ranges from 5-10 million VND.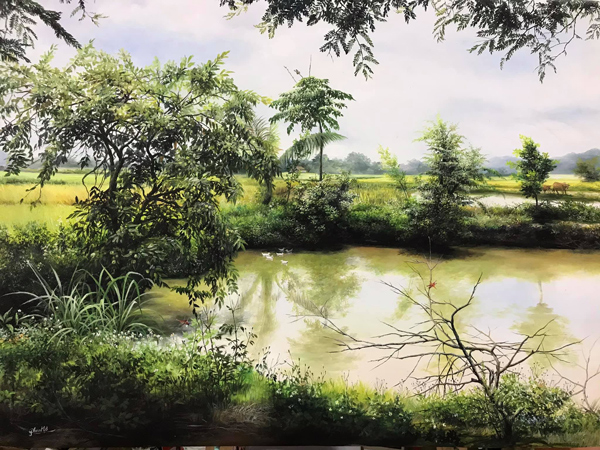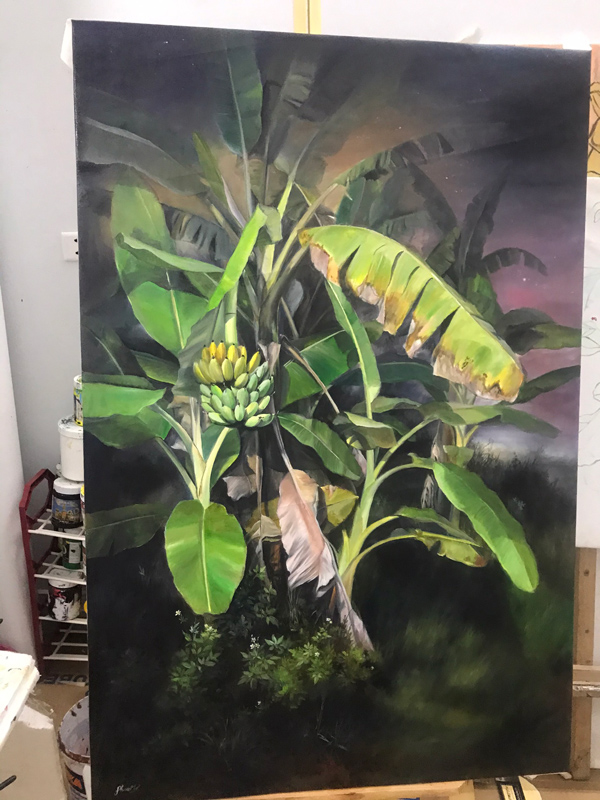 Some of the paintings she has completed.
To have a complete picture, the price is about 5-10 million VND/picture, it takes her a lot of time to draw and research. She said that she had to research whether to add or remove things to be most suitable and close to everyday life, leaving emotions for viewers and creating other values ​​for the painting.
The paintings are all oil paintings painted on canvas. However, she believes that her paintings are realistic, there are pictures similar to photos, so it is controversial. "First, there are people who do not understand painting and do not believe in drawing. Second, some critics think that realism is not worth more than a photo, there are also people who support realism," she said.
Thanks to the work of drawing and selling paintings, she earns about 20-30 million VND per month. After 2 years of returning to her hometown, the couple also saved up to buy a piece of land and built a house near their children's school. Currently, her family's life is stable, she focuses on composing at home, while her husband still works.