Instructions for growing orchids Dendrobium Thailand
---
Dendro flowers are imported from Thailand and are popularly grown in Vietnam. Currently Dendro orchids are many people love because this flower has many different colors and is easier to care for than many other ornamental flowers.
Here are ways to take care of dendro orchids:
Make a net house to grow dendro orchids
Growing the dendro Orchids: The direction of the orchid is very important. Make sure the garden has light and shade at all times. Using a black nylon mesh will dissipate heat and limit the light widely sold, so it is very convenient.
Scaffold ribs: Scaffolding ribs need to be solid.
- Standing pillars: Pillars must be planted with iron or concrete to ensure long-term, many horizontal and vertical trees to maintain. Pillars must be about 3-3.5m high.
Sunscreens: Use to shade direct sunlight. Usually made of nylon mesh, just stretch a few steel wires to make the mesh.
- Gantry hanging orchid: Used to hang orchids, this truss is best made of stainless steel or guarded by rafters, bamboo or round water pipes to hook the orchid pots. Suspension rig should be about 1.8m high to take care not to crash head. Stainless steel trees or gong (water pipes, bamboo ...) must be guarded parallel, about 30 cm apart / tree. About 5 - 6 stinging sturgeon trees should leave a 0.6m wide path for convenient watering and care.
Hanging orchids must hang pots of the same length, hang hangers are also of the same length and plant at the same age, the same orchid for easy care, straight line, new and beautiful looks.
- Shelves for orchids: We can make shelves to spread. The 0.8 m high shelf has a hole that fits just like a pot, no need to spend hanging hooks and the middle of the frame; at the same time to have many pots.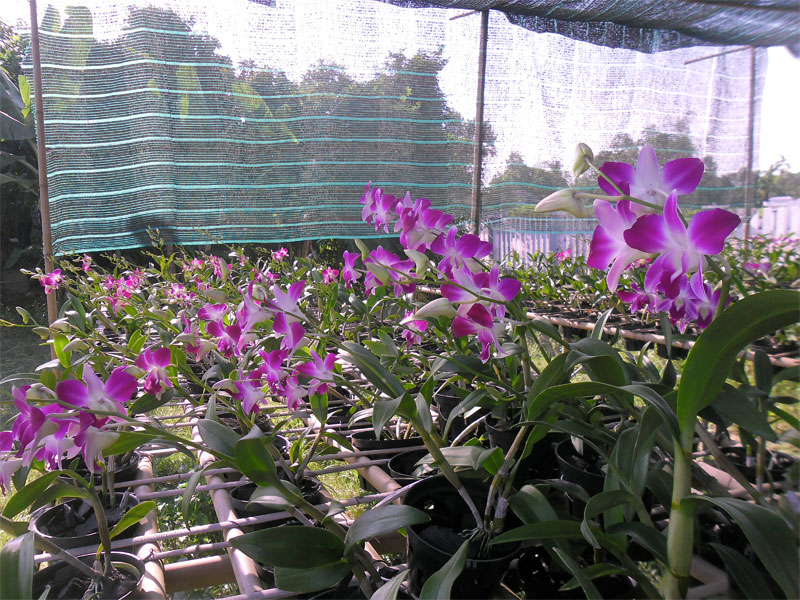 Ecological requirements for dendro orchids
- Temperature: Dendrobium is suitable for a warm climate. The daytime temperature is about 27-320C, the night temperature is 16-180C. Low temperatures make the plant deciduous.
- Light: Dendrobium orchids need light, the amount of light needs about 70% sunlight. He was too bright and burned the leaves. In case of lack of light, the plants are weak, thin leaves, small flowers and no flowers.
- Humidity: 50-80%.
- Ventilation: Choose a gardening location that must be well ventilated so that the environment is always humid and cool for orchids to have more favorable conditions for development. However, where there is ground, there can be orchids.
Techniques to grow dendrobium orchids
Growing dendro orchid with the substrate of the charcoal Planting medium is normally grown by wood charcoal, pine bark, palm tree, coconut fiber, brick ... But must be disinfected before planting. Common pots used are plastic pots or soil pin
Planting method: The most common way to grow Dendrobium today is potted. Plant the plant close to the pot edge and the direction of the shoot to grow inside. Planting tightly and not being shaken.
Care techniques
- Watering: Watering helps maintain moisture during growth. The amount of watering depends on the stage of growth and development of the plant and depending on the season. Usually in the dry season, watering 2 times in the early morning and at 3 pm. watering the leaves and substrates
- Fertilizing: It is possible to temporarily divide 3 main phases to fertilize orchids:
Seedling stage: From tissue plants brought to nurseries to production gardens (about 4-6 months)
Some commonly used fertilizers:
- Atonik uses 2-6 drops / liter of water
- NPK 30-10-10 or NPK 30-15-10 use 0.5g-1g / liter
- Vitamin B1 use 1ml / liter
Spraying periodically 2 times / week, can use NPK in combination with vitamin B1 to irrigate baby orchids.
The stage of the production garden to the mature tree: this is the period of strongest growth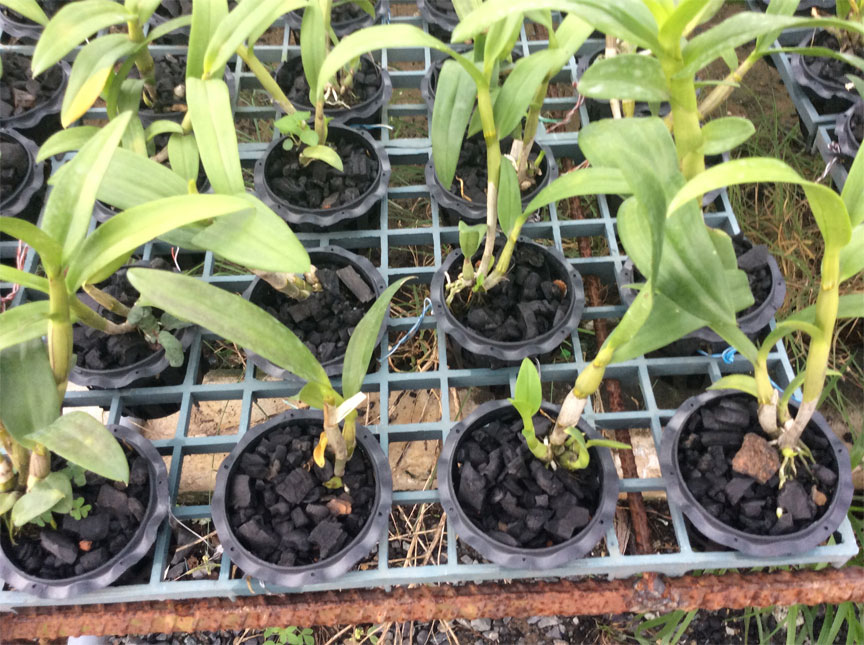 Some commonly used fertilizers:
Fish Emulsion Feces 1ml / liter of water
- NPK 20-20-20 (1-1.5gam / liter)
- Vitamin B1 use 1ml / liter
- NPK 30-15-10 use 1-1.5g / liter Spray periodically every 5 days.
How to use:
NPK 30-15-10 fertilizer combined with vitamin B1 spray 2 times / week. Spray continuously for 2-3 weeks; then spray 1 time of NPK 20-20-20; followed by spraying of fish feces. Then, repeat spraying fertilizer 30-15-10 and Vitamin B1 as from the beginning.
In addition, we can add fertilizer to the rootstock with Dynamic 5-7 lumps / root.
Stage plants prepare to flower and raise flowers:
This age is related to the seed formation process, flower quality and flower durability
Some fertilizers used:
- NPK 20-20-20 (1-1.5gam / liter)
Fish Emulsion Feces 1ml / liter of water
- Vitamin B1 use 1ml / liter
- NPK 6-30-30 1g / l
- Pest control: Spraying room periodically every 7-10 days. Alternate use of different drugs.
Commonly used fungicides are Rhidomil, Aliette, Score, Vicarben
Pesticides: Decis, Bassa, B Thailand ...
Above are the dendro orchid care methods that can help you get the beautiful pots you want. Wish you all success with your gardening work!