Leaving the job many people dream of, the young couple returned to their hometown to "massage" coconut flowers, earning billions every year
---
From a university lecturer, this man decided to return to his hometown with his wife to start a business with a "strange", revenue up to 5 billion VND/year.
Events: Economy Overview
Mr. Pham Dinh Ngai, born in Dong Thap, was working as a lecturer for Cao Thang Technical College in Tra Vinh suddenly quit his job, went to his wife's hometown - Tra Vinh, to start a business with his wife.
As a master in electrical engineering, the job makes the state stable, many people dream, the family has high expectations. He suddenly resigned, heard the news, the whole family strongly protested, blocking his plan. His wife has a master's degree in food technology, so she always aspires to return to her hometown to start a business in the field of agriculture, promoting the knowledge she has learned in the workplace. His wife's passion also made him waver and determined to return to his wife's hometown, establish a career with his wife, and help people here.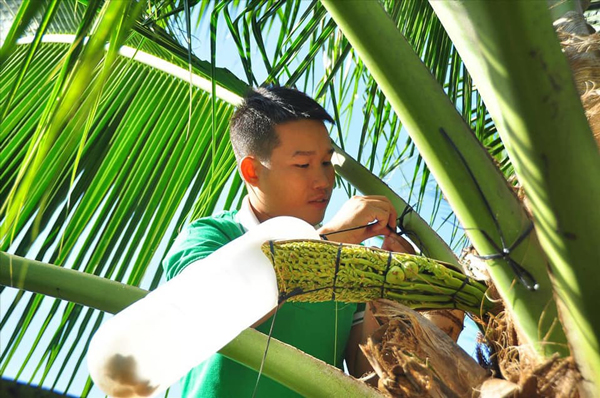 Mr. Ngai said that people who get coconut nectar must know how to "massage" the flowers before taking honey.
He said Tra Vinh is the province with the second largest coconut production in our country, but the price is "cheap", lower than the coconut in Ben Tre. At the peak in 2018, the price of dried coconut was at a record low, 1,200 coconuts sold for only 2 million VND. This made him ponder forever, prompting him to find a new method of exploiting coconut trees to increase economic value.
"My husband and I are determined to find out and know that there are many countries in the world that have taken nectar from coconut flowers, this honey is very good for health, helping to improve the livelihoods of local farmers," he shared. shall.
Overjoyed, at the beginning of 2018, the couple decided to return to their hometown to work. But things are not simple, in the first 9 months, Mr. Ngai and his wife repeatedly failed, getting nectar on coconut flowers was unsuccessful because of the wrong nectar collection method, choosing after the time of cutting coconut flowers...
Not giving up, Ngai and his wife researched, studied, went to practice and found the most optimal method to collect nectar from coconut flowers. Every day, the honey collector must climb the coconut tree twice, before taking the honey, the person taking the honey must "massage" the coconut flowers, that is, rub the coconut flowers with their hands and then use a wooden pestle to knock with enough force to make the pine tree clear. nectar gland inside coconut flower. "If you tap too lightly, bile will not be secreted, and if you tap too hard, it will crush and damage the internal bile ducts. Therefore, not everyone can get honey, it takes about 2 months of training to master the profession. Not only that, the age of the flower also needs to be noted in taking honey, if it's too young or too old, it won't work," Ngai said.
After 9 months of testing, he and his wife also brought the first coconut nectar product to the market.
After finishing the ingredients, he and his wife went back to processing products. "At this time, we really promote the right major when my wife is a Master of Food Technology, and I am a Master of Industrial Electrical. In a short time, we were able to master the technology and process of producing coconut nectar," he said.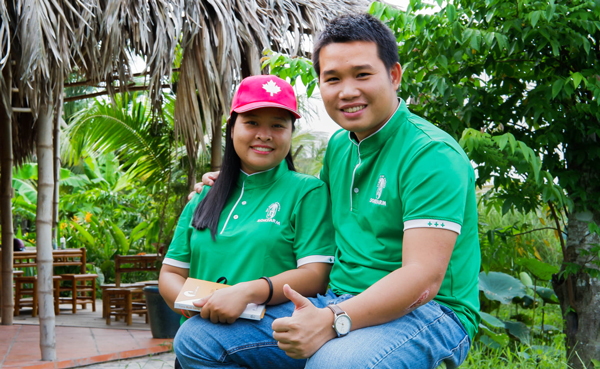 He shared next year will continue to expand production to double this year.
By September 2019, the first coconut nectar products were introduced and delivered to domestic consumers. The product was quickly accepted by many people. After only 1 year, the couple's coconut nectar product was present in 20 provinces and cities of our country and appeared on the US e-commerce floor. Until this year, some Japanese customers also contacted to order.
In 2020, his company purchased about 8 tons of coconut nectar materials, producing more than 1 ton of coconut nectar. Last year alone, he earned about 5 billion dong.
His company started to make a profit last year, but that money he used to invest in buying machinery, expanding factories, hiring more workers.
Currently, his and his wife's company buys 15 tons of coconut nectar every month, producing about 3 tons of finished coconut products. It is expected that next year, Mr. Ngai and his wife will continue to expand production, increasing to buy 30 tons of coconut flowers, producing about 5-6 tons of finished nectar.