Only 23 years old, the young man started a business in the countryside, with a turnover of 2 billion VND/year
---
After 2 years of working as a hired worker, a young man from Hung Yen decided to become the owner and start his own business on his own land. His efforts have paid off when his revenue so far has reached 2 billion VND/year.
Events: Economy Overview
When he first started farming stuffed snails, Hoang Manh Cuong (Khoai Chau, Hung Yen) lost a lot because he did not grasp the technique, the percentage of snail parents lost high.
"This failure cost a lot of money, but I was not discouraged at all. I still try and think it's because I don't have much experience. Because before I started working, I learned very carefully how to care for and profit of this type of snail," shared Cuong.
Not only was it difficult to raise, but he was also not supported by his parents with his decision to quit his job to raise snails. At this time, he also did not have much money, only had a little money saved during the hiring process, so he still had to buy more gold to raise money for snails.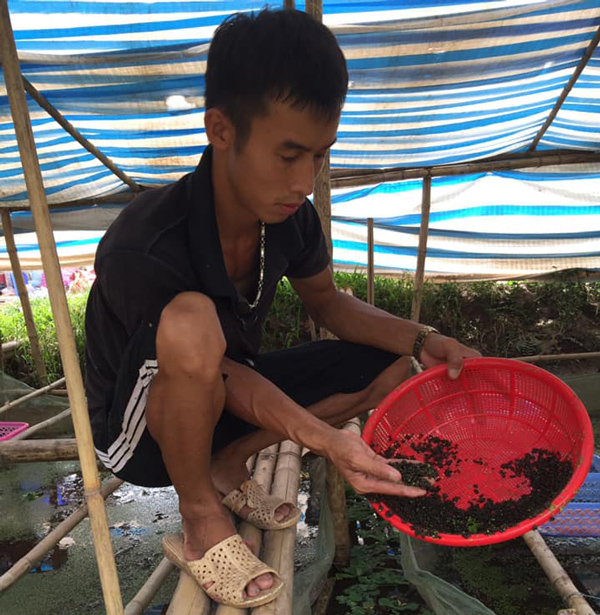 Cuong followed the path of making money when he finished his high school program. And 2 years later, he started borrowing more capital to start a business of raising stuffed snails.
Before that, around 2016, he finished high school but due to difficult family circumstances. Cuong decided to work as a worker at the local brick kilns. However, he did not want to go in this direction, but always struggled to find another development direction, able to be self-employed.
"By 2018, I had a bit of savings after a few years of working. I decided to quit my job and travel to other provinces to learn about snail farming models. I find that raising stuffed snails is very profitable and easy to raise. Returning home, I borrowed more gold from relatives to buy seeds…", Cuong shared.
When he first started his business, the young man renovated more than 400m2 of ponds around his house to make a place to raise snails to breed. The first generation was difficult, but the later generations were all favorable and he quickly paid off the loan.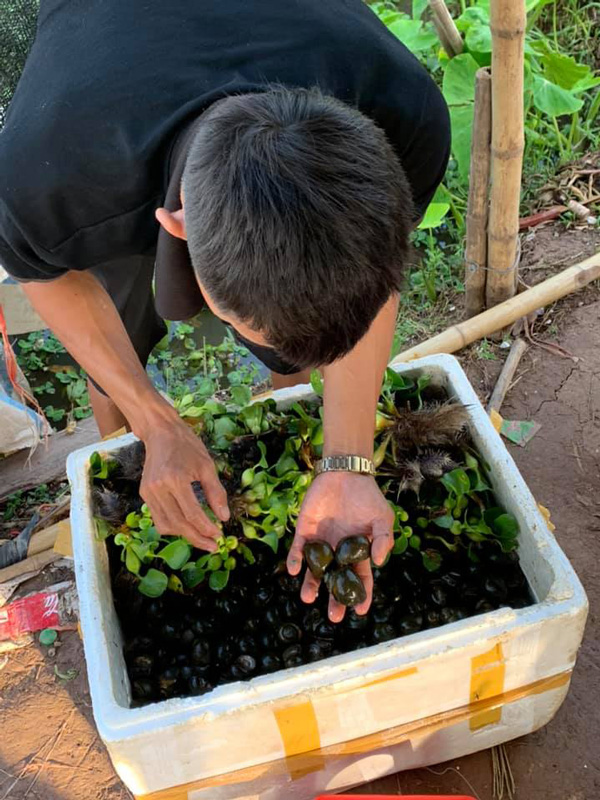 With a lot of luck, after a short time, Cuong was able to pay off the loan when he started his business.
According to Cuong, stuffed snails are pets that require clean water sources, free of chemicals from pesticides, factory wastewater, and livestock. In order for snails to grow and develop smoothly, farmers also need to create an ecological environment for snails like in the wild.
Before stocking snails, ponds and water sources need to be treated first. This step is very important in the success - failure when raising snails. The young man thinks that around the pond, it is necessary to clear all the bushes to avoid mice nesting around the bank. That is also convenient for later harvesting.
In order for snails to grow well, farmers grow more plants such as water lily, seaweed and spinach… These plants will increase the coolness of the pond and create more places for snails to cling.
Talking about food sources, the sentence said that snails eat things that are easy to find and cheap, can make use of vegetables, tubers and fruits in the garden such as duckweed, gourd, squash and melon...
Thanks to snail farming, he has a revenue of up to billions of dong a year, a profit of about 500 million dong/year.
After 3 years of starting a business, Cuong expanded the snail farming area of ​​​​nearly 10,000m2, with a total investment of nearly 1 billion VND. From the beginning of 2021 until now, this young man has supplied more than 3 million snails with a price of 300 - 500 VND/head. It is estimated that from now until the end of August, he will export 2 million more snails and collect 3 tons of commercial snails with the selling price of 80,000 VND/kg.
Last year alone, his snail farm had a turnover of more than 2 billion VND, profit of several hundred million VND/year.
According to him, the Covid-19 epidemic does not affect too much snail farming as well as product output. Only a part of snail meat sold to restaurants is affected a bit, the rest people still buy snail seeds and snail meat regularly.
Therefore, he still hopes to expand the farming area in the near future and export stuffed snails abroad. At the same time, he wants to consume the output for snail farming households and bring the Vietnamese stuffed snail brand to the international market.