Paphiopedilum hirsutissimum
---
The tree grows in small bushes on rock holes. Very short body sinks in the ground. The leaves are narrow strip, green shade, the head is jagged, 30 - 40cm long, 2 - 3cm wide, arranged in 2 rows. The flower cluster is 20cm long, has 1 flower, the stalk has dark purple hairs. Bract 2, broad ovoid, with thick undercoat.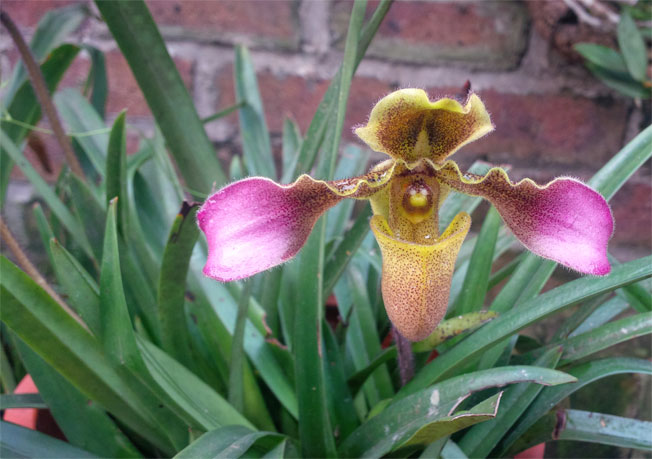 Vietnamese name: Lan comedy feathers
Latin name: Paphiopedilum hirsutissimum
Synonyms: Paphiopedilum hirsutissimum (Lindl. Ex Hook.) Stein, 1892. Cypripedium hirsutissimum Lindl. ex Hook. 1857. Cypripedium esquirolei Schlechter, 1919; Cordula esquirolei (Schlechter) Hu, 1925.
Family: Orchid Orchidaceae
Set: Orchid, Orchidales
Class (group): Lan land
Identifying characteristics:
Herbaceous plants, live in soil or on rocks. Leaves 5 - 6, strip-shaped, tapering to the apex of two skewed lobes, size 45 x 1.5 - 2 cm, green, more or less purple spots on the underside. Flowering 1 flower; flower stalks 17-25 cm long, thickly covered with long hairs, covered at the base by up to 11 cm long sheaths; bracts oval, 1.5 - 2.8 cm long, hairy. Flowers are large, 11-14 cm in diameter, pale yellow to light green sepals, glossy brown spreading to the edge; petals light yellow, brown-purple spots on lower half, purplish pink on upper half; lips pale yellow to light green, purple pink spots; Pale-yellow stamens, purple spots at base, shiny brown in the middle. The stalk and bulb are 5 - 7.5 cm long, covered with long hairs. The upper sepals are oblong ovoid, the top is obtuse or round, size 3.8 - 4.5 x 2.6 - 4 cm, with wavy edges, hairy. The lower sepals are similar to the upper one, measuring 3.2 - 3.6 x 1.6 - 2.2 cm. Petals are horizontal, curved, spoon-shaped, round at the top, size 5.5 - 7 x 1.2 - 2.2 cm, strongly wavy at the base, hairy. Lip pocket, size 3.5 - 4.5 x 2 cm. Stigma near square, convex, convex, size 10 x 8 mm.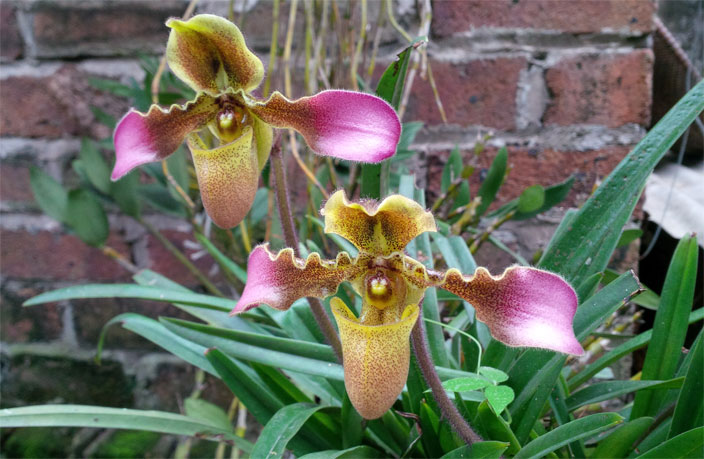 Biology and ecology: Regeneration by shoots and seeds. Scorched in thin forests, rocky mountains, on soil or on rocks, at an altitude of 700 - 1800 m.
Distribution:
Domestic: Ha Giang, Cao Bang, Lang Son, Lam Dong (grown in Da Lat).
World: India, China, Myanmar, Thailand.
Value: This is a precious orchid species, valuable for ornamental purposes because of its beautiful body, leaves, and flowers of 10 cm size; Beautiful by sepals green, purple and purple petals and purplish brown on lips.
Status: The species has a distribution zone and split habitat. Belonging to Lan Hai group, Lan group is hunted for commercial purposes.
Classification: VU A1c, d + A2d.
Protection measures: Species recorded in the Vietnam Red Book (1996) with the rating "threatened" (T) List of endangered and rare forest plants and animals (group 1) of the Decree No. 32/2006 / ND - CP dated 30/3/2006 of the Government to prohibit exploitation and use for commercial purposes. It is recommended to build a conservation area and propagate orchids in a national park and to relocate a possible amount of this species to the conservation and care area.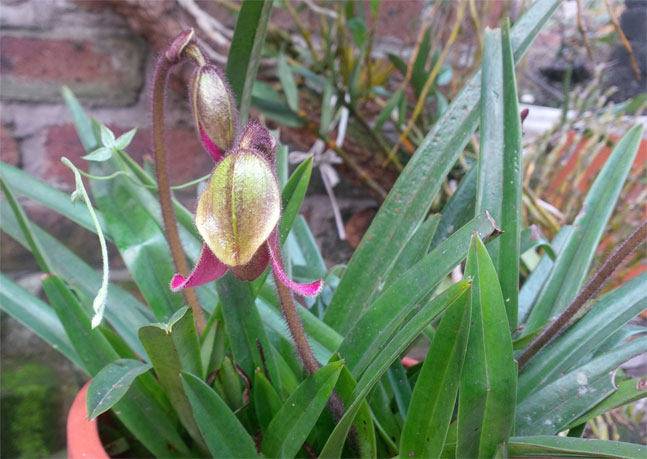 References: 2007 Vietnam Red Book - Plant part - page 463.