Quitting a job, 8X returns to his hometown to start a business, earning billions of dong a year
---
Experiencing initial difficulties, until now, Mr. Dinh Duc Chien said that the revenue of his start-up model has reached billions of dong per year.
Events: Economy Overview
Dinh Duc Chien, an 8X in Yen Thuy - Hoa Binh shared that before deciding to start a business, he spent nearly 10 years as a worker at Dung Quat oil refinery (Quang Ngai).
With the money accumulated during his time as a worker, in 2017 he decided to quit his job to return to his hometown to establish a peanut oil press facility. Sharing about the reason for choosing the Lac tree to start his own business, the 8X guy said that when he was still a worker, every time he took leave, he went to many places to visit, learn and accumulate experience from models. Pressing peanut oil in localities.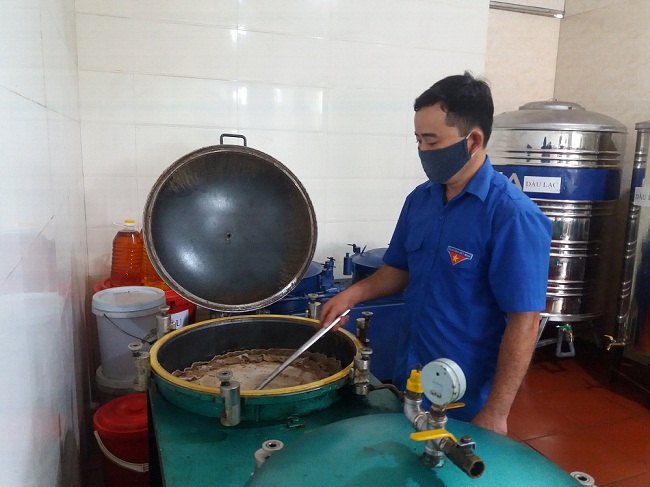 From a household scale, Mr. Dinh Duc Chien has expanded into a production cooperative
"As a child born on Yen Thuy land, where every year over 2,000 hectares of peanuts are planted, however, with the annual price pressure from traders, the harvest is depreciated, so I decided to quit my job. to return to his hometown to start a business from peanuts with the desire to help local farmers," shared Mr. Dinh Duc Chien.
Mr. Chien said that at the beginning of operation, the facility faced many difficulties due to manual production, and the output and consumption of products was not stable. Besides, because he was not familiar with new equipment and machinery, he had to buy replacement equipment every time he had a problem, which was very difficult and expensive.
In order to take the initiative in production, he always arranges time to do his own research and learn about peanut oil production technology on books, the Internet, even to many localities to personally survey the facilities, direct manufacturing enterprise.
After initial successes, in 2019, he decided to establish Yen Thuy Safe Agricultural Cooperative with 12 members, with an initial capital of nearly 1.4 billion dong. Mr. Chien is both Chairman of the Board of Directors and Director of the cooperative, both managing and operating.
With the capital contributed by the cooperative members, he also decided to buy a modern production line of groundnut oil. When he had a production line, he both produced and carried out legal procedures to be recognized as a clean and safe agricultural product. Next is building your own brand to supply to the market.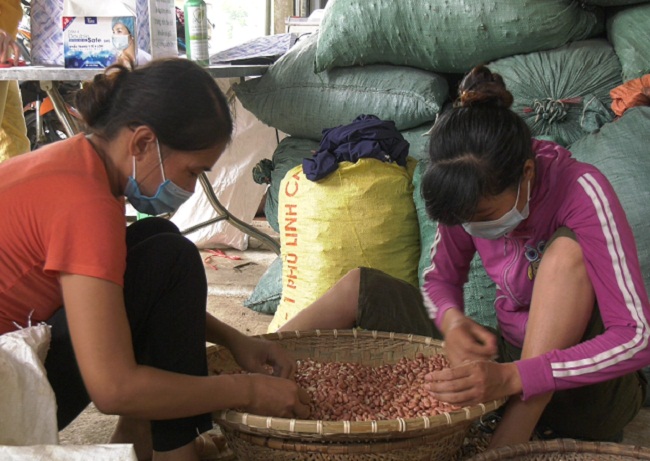 Every year, the cooperative consumes hundreds of tons of peanuts for farmers in the district and neighboring localities
Mr. Chien said the cooperative's peanut oil production process includes 5 stages: Seed separation, preliminary processing, oil pressing, oil refining and storage of bottled samples.
According to him, on average, about 2 kg of peanuts can be pressed 1 liter of peanut oil, the price of the product is 130,000 VND / liter. Each year his cooperative is consuming about 60 tons of peanuts for farmers in the district and surrounding areas.
In addition to focusing on promoting and promoting product brands, since coming into operation, the cooperative has also focused on linking with farmers in the district and surrounding areas. In particular, the cooperative has helped peanut farmers in Yen Thuy escape from the situation of "good harvest, bad harvest" as in previous years.
With the advantage of having a headquarters and factory in an area with abundant raw materials for oilseeds such as peanuts, black sesame, yellow sesame, the procurement and transportation of raw materials is very convenient, saving costs. cost and stability in raw material supply.
Up to now, the cooperative's peanut oil products are not only consumed in Hoa Binh province but also sold in many other provinces across the country. Meanwhile, by-products such as peanut shells and residues are used as animal feed and organic fertilizer for plants, 8X guy added.
In 2020, despite being affected by the Covid-19 epidemic, the Cooperative still procured enough raw materials for production needs in the year. The cooperative creates regular jobs for 2 workers and 10 seasonal workers.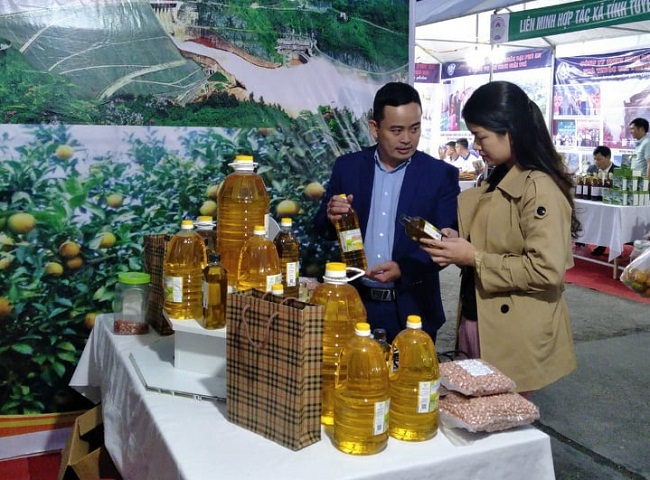 The 8X guy actively brings the products of the cooperative to introduce at fairs and contests to promote the brand
The 8X guy said that in 2020, the revenue of the cooperative has reached VND 1 billion. After deducting expenses, the profit earned is more than 122 million VND. Also in 2020, the peanut oil product of Mr. Chien's cooperative was recognized as a 4-star OCOP product at the provincial level.
Sharing about the plan in the near future, the 8X guy from Hoa Binh province shared: "I hope to enroll more members in the near future to expand business capital, scale and productivity. of the cooperative to be able to buy all the peanut output of the district to create a stable source of output for the people, create more jobs for workers, bring peanut oil products to the provincial market and reach far. to the world market".