Tour guides quit their jobs to sell "high-priced coconuts" and sell thousands of fruits every day
---
As a guide with 10 years of experience, having led hundreds of tourists, set foot in 36 countries around the world, Ms. Van decided to quit her job to start a business with Ben Tre coconuts after trying one $5 worth of coconuts in Australia.
Event: Economy "shock resistant" COVID-19
8x owns 2 university degrees at the same time after 4 years
Born in 1986 in Hien Street (Hung Yen), Pham Thi Van said that the peaceful countryside with the Red River dyke and the green longan had raised her dream of becoming a tour guide.
"My parents were both farmers in those days, the family was poor, while my classmates could go to the beach every year for vacation, I had to stay at home. At that time, I just thought simply, in the future, I will be a tour guide so that I can go everywhere, "said Ms. Van.
Growing up, after passing the entrance exam to the Faculty of Tourism, Hanoi University of Culture, she began to burn herself in the journey of realizing her dream. During the day, she went to school like her classmates, in the evening she studied to get a Bachelor's degree in English from Hanoi University of Foreign Languages.

With her energy, Ms. Van owned two university degrees at the same time when she graduated from college.
In her free time, she tutors, works as a student consultant for Olympia students, works as a youth volunteer to mobilize blood donations, goes on tour or goes to the library to read books about culture, history, and geography. , write down the places you want to go, the foods you will enjoy, and the things you want to do.
After 4 years of trying her best, after graduating from school, she holds an international tour guide card and a Bachelor's degree in English. Therefore, she was easily accepted into leading travel companies to work, lead international delegations to Vietnam and Vietnamese tourists to travel abroad.
A$5 coconut and the tour guide's decision to quit
Lucky to be a tourist in a time when tourism is developing, so every month, Ms. Van has the opportunity to go abroad a couple of times, knowing the way of foreign supermarkets better than Vietnamese supermarkets. However, she always worries when realizing that Vietnam's agricultural products are delicious and diverse but are rarely available in foreign supermarkets.
"Once I took a customer to visit a supermarket in Australia and was attracted by a coconut with a lid that helps people open easily for $ 5. Bought to try and drink, I found this coconut is not as delicious as Vietnam's Siamese coconut while the price is 5 times more expensive. So, I decided to quit my job and go to Ben Tre to do something for myself," Van said.
Returning to the country, she went everywhere to learn about the market and the ability to supply raw materials, and at the same time contributed capital with a group of young people to implement the project of coconut with eyelets but failed in a short time because of inexperience. .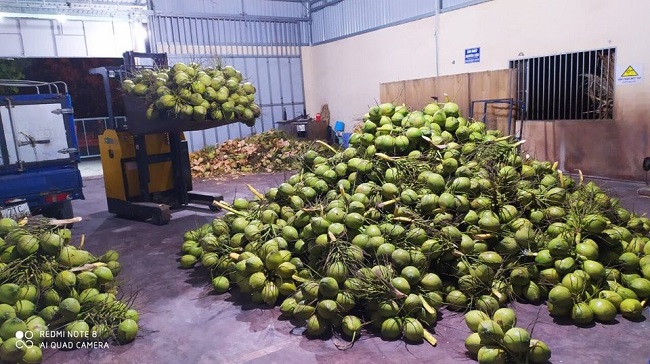 Leaving her job as a tour guide, Ms. Van started a business with Ben Tre coconuts.
All the accumulated money was almost lost, she decided to go to Thailand to learn how to make coco buttons.
"Thailand has nearly 200 coconut products and their eyelets have been selling well in the world since 2015. So I wanted to learn how to make their coconuts, learn about laser cutters, standards. materials of eyelets, screws, preservation technology to improve the value of Ben Tre coconuts," said Ms. Van.
Returning home, she decided to borrow money to open a factory and was introduced by friends, rented a factory specializing in exporting coconut and established a company.
With the mindset of only producing high-end products, clean goods, without using chemicals and only taking Ben Tre standard green Siamese coconut, in 2017, she launched coconut products in her own way. Those are the fresh Siamese coconuts of Ben Tre that are peeled, fitted with eyelets and engraved with a unique and different little smile.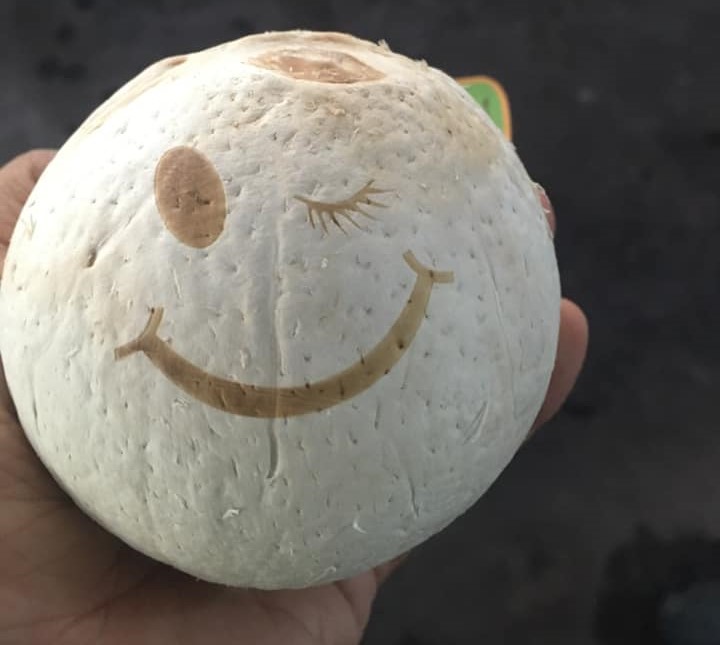 Each coconut is painted with a unique smiley face.
Careful in choosing inputs, she only chooses coconuts that are harvested after 33-35 days of fruiting. At that time, the coconut shell was firm, easy to cut and shape, to achieve the required water quality and sweetness.
Therefore, normally, each Siamese coconut in Ben Tre only costs 10-15 thousand VND, her coconut after preliminary processing, applying technology and techniques is sold for 3 times the price.
As the first person to produce eyelets in Vietnam market with a completely new look, her products were quickly received warmly by domestic and foreign customers. Not only is it pleasing to the eye, convenient to use, but her coconut water is also extremely delicious and good for health.
Her eye-catching coconut has created a great resonance in the market.
After 2 months of being on the market, regularly every day she sells more than 1,000 coconuts to the market. Her products are present in cafes, restaurants, resorts, grocery stores or conferences.
Up to now, after more than 3 years of starting a business, her products have been exported to Korea, Japan, Australia, USA and many European countries. The highest month, her side exported about 180,000 fruits, the lowest month was about 90,000 fruits.
Not only raising the value of Ben Tre coconuts and bringing Vietnamese agricultural products to the world, Ms. Van also creates regular jobs for about 10 local workers.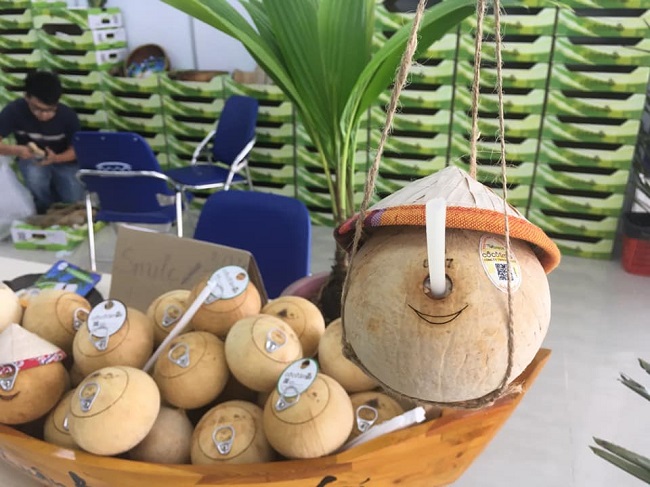 Not only supplying to domestic customers, her products are also exported to many countries around the world.
She said that during the epidemic season, the export volume of coconut to other countries and the domestic market was also reduced more or less. To both ensure the production of orders for partners and fight the epidemic, she and all employees must also apply the 3-in-place production method.
It is difficult and hard, but for her, it is possible to do what she likes, to create value for Vietnamese agricultural products and especially to bring smiles to sincere farmers, honest employees and customers. Item is the best thing.